in conjunction with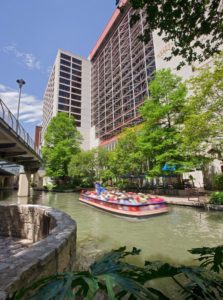 College Music Society (CMS)
National Conference
October 26-28, 2017
Hyatt Regency San Antonio Riverwalk,
San Antonio, TX
ATMI is holding its National Conference in conjunction with the College Music Society's Sixtieth National Conference October 26-28, 2017, at the Hyatt Regency San Antonio Riverwalk, San Antonio, TX.
Conference information
2017 ATMI dinner
The ATMI dinner will be Friday, Oct 27 from 6-9 pm at The Picante Grill, which is a short car/taxi/bus/Über/Lyft/bike ride from the hotel on Broadway. If you are in San Antonio Friday evening, please plan to join us:
     Picante Grill,  3810 Broadway, San Antonio, TX
No-host dinner; not included in registration fee
About the Conference
CMS/ATMI National Conferences routinely attract over 400 faculty, administrators, graduate students, independent scholars, composers, publishers, and music business personnel who share a common interest and dedication to the improvement of music and its relationship to the other academic disciplines of higher education.
The conference program presents higher education's broadest array of topics dealing with technology in music instruction. Uses of new hardware and software are explored in a variety of formats. Through papers, panels, posters, and workshop sessions, ATMI conferences provide the opportunity to explore the uses of technology in all aspects of music instruction.
ATMI program Committee:
Damon Sink, Western Carolina University (NC), 2017 Program Chair
Rick Schmunk, University of Southern California (CA)
Keith Mason, Belmont University (TN)
Barry Atticks, Millersville University (PA)
Richard Hornsby, University of New Brunswick (CA)